The Amberlithe Commitment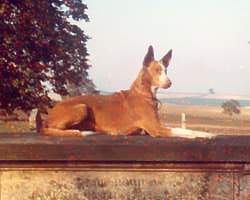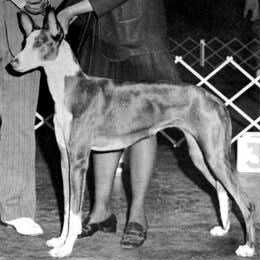 My interest in Ibizan Hounds began in 1973. I had seen pictures of the English bitch named Sol and read some descriptions on the breed. I was intrigued by their exotic deer-like elegance. But it was the photo of Ilya de San Martin CD that really appealed to me.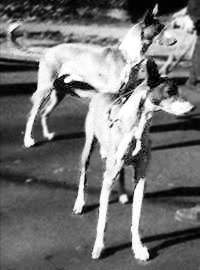 After writing to the late Mrs. Bobbie Preu, I received my first Ibizan from her nephew, Martin B. Marx, DMV. This bitch was part of the Preu estate. Her name was later registered as Preux Cleopatra's Amber.
At that time I received a list of dogs and owners from the estate. One of these owners was Dean Wright. I contacted him and I was invited to his home in Maryland for a breed match. This was my first experience showing. Many notable dogs were attending such as Suda, Nekabi, Threehand Khafre of Loki, Eridu Moreno, (brother to Maestro) and various Pruex dogs such as Delilah and Tut.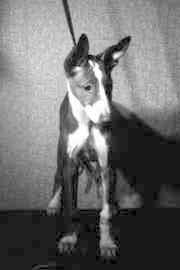 Later when I considered breeding Amber I began the quest for that elusive quality that I had seen in Ilya. After many dead ends I was able to discover from Judy Bauer, Ilya's owner, about the dam Anat de San Martin, a bitch from the Belmonte-San Martin line. I was able to buy directly from the breeder, Dixon Smith, one of the two brothers left. Dixon had imported a foundation stud, Don Juan de Belmonte, in 1957 from Mallorca.
The dog I purchased was Don Victoriano de Hanno, (Tori). He was a three-year-old kennel dog. He was tall, at least 28 inches and still immature. His brisket finally dropped when he was about five. Tori was bred to my Amber and produced my Phoenecia. He later went to live with the Bauers in Colorado and was actually bred to Ilya! This match produced the famous litter of Runner, Eagle, Foxfire, and Senuwy. Later Eagle and Foxfire figured prominently in my breeding program. These dogs have Don Juan repeated sixteen times in their pedigrees.